Corporate Profile
GridWorld focuses on developing software for constructing geological models and simulation technology. It is dedicated to being an industry leading provider of advanced technology related to structural earth modeling. This technology allows users in the oil and gas industry build accurate geological models, simulate subsurface physical processes, and analyze the results. GridWorld has 20-years of practical experience and technical knowledge built into its new and modern products. In 2015 GridWorld started to expand into overseas international markets, and has received acknowledgements on its technology and secured a major oil company to adopt its DepthInsight® product in 2016. The technology has also been adopted by a software company to help supplement and enhance their workflows.
GridWorld employs 30 people working in Beijing, Nanjing and Houston. The core Research and Development team in GridWorld has diverse backgrounds of talents that include, computer science and geoscience and is constantly creating new innovative technology to meets all the challenges for the users. In order to better serve the international markets, GridWorld has, and is building global sales and marketing channels, and now have agents in Pakistan, India, Malaysia, Canada and is expanding quickly into additional countries.
Corporate Culture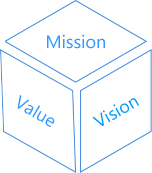 Mission
Research and develop advanced geological modeling and simulation technology to serve all geology related industries.
end
Value
To acquire knowledge by constant investigation until reaching the highest excellence.
end
Vision
Use our technology to build a 3D structural model earth to make geoscience into the era of geomodels and enable all geoscientists working together based on the same structural earth model.
end