GridWorld Presents at the Rice Alliance Energy and Clean Technology Venture Forum
2016-09-15
September 15, 2016
The Rice Alliance's 14th Annual Energy and Clean Technology Venture Forum was held on September 15, 2016. This event is the largest energy and technology venture capital conference in the southwest section of the United States and attended by companies from all over the world. This event was an opportunity for investors to learn and see the latest emerging technologies and possibly provide funds to allow these companies and technologies to expand and grow their business. The forum was attended by 40 investors and nearly 50 individuals and companies presenting their innovations. Following the presentations was a networking reception were companies could speak to potential investors and others interested in players wanting to know more.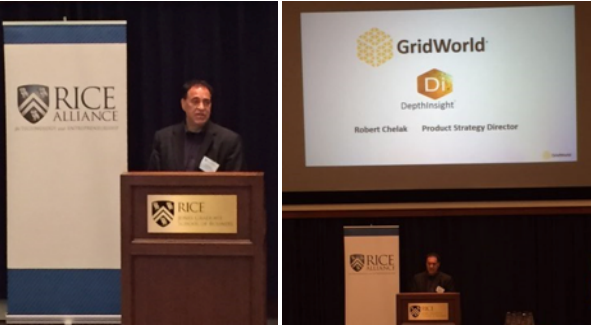 Product Strategy Director Robert Chelak presents GridWorld's technology at the forum
During the presentation Robert Chelak spoke about GridWorld's technology and how the company would like to expand and grow the business globally. The presentation was well received and has created networking opportunities with many of the players in the investment community. Discussions are continuing between GridWorld and all interested parties to see how they can work together to grow and expand the business.