News about Society of Exploration Geophysics Convention
2016-10-20
October 20, 2016
The 86th annual Society of Exploration Geophysics (SEG) conference was held in Dallas, Texas United States from October 15 to 19, 2016 with over 276 companies participating in the event. GridWorld, as a high-tech software company, attracted a large number of leading oil companies in the world, come to its booth to experience its innovative gridding algorithms and excellent geological modeling technology. The design style of the booth showcases its brand distinction, with a spacious and modern look, but also with a rich sense of science and technology. Many of experts in the oil and gas industry from high-tech colleges, research institutions, exploration and producing companies with backgrounds in geophysics and geological modeling visited the booth to watch demonstrations of the products that GridWorld provides. These products and new innovations obtained high recognition and praise from these industry experts and customers.
The products in the DepthInsight ® software provides the solutions for companies to increase production of petroleum reserves and reduce the costs of extracting these by building comprehensive and accurate reservoir models. These products include; structural modeling, geological property modeling, paleo-structure restoration, geomechanical modeling, velocity and attribute modeling. A new innovation in "Integrated Seismic Interpretation & Structural Restoration Workflow", was unveiled to the public at the convention and is based on the DepthInsight® technology. This revolutionary workflow attracted allot of attention from industry experts that attended the presentations. Upon completion of exhibition, GridWorld has been invited by many international oil companies to do the further product introductions and technical exchanges with their staff at their headquarters in Houston Texas.
The attendance at this year's conference was affected by low oil price, compared to previous years, as the number of people on the trade show floor were down. Despite the low number of attendees GridWorld managed to show 20 presentations and attract about 150 industry experts to come to visit the booth during the exhibition to see the technology. After each presentation, there were many questions and detailed technical discussions about the workflows and techniques being shown. From this many companies expressed a strong willingness for cooperation intention to further discuss how to work together.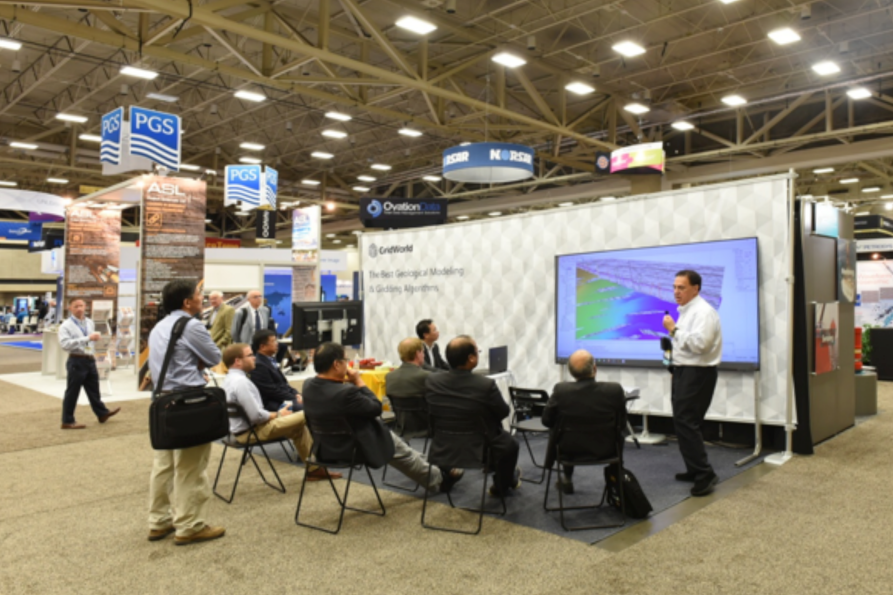 GridWorld's Product Strategy Director Robert Chelak does a product presentation of DepthInsight® workflow.